The Philippines is a hard-working country rich in culture, history, religion, and nature, and rich in language skills. About 85% of the population speaks English, and with a high level of education, the country has many elements to lead the world as an industrialized nation.
ITO-SEISAKUSHO PHILIPPINES CORPORATION (based in the Philippines) manufactures advanced progressive dies and press parts based in the Carmelray Industrial Park II, inside the PhilippineEeconomic Zone in Laguna Province.
Blessed with excellent human resources with excellent English language skills, the company has established an integrated production system with local staff through aggressive capital investment and training.
In September 2017, a plant dedicated to progressive dies started operation, and we have been exporting our products to ASEAN countries and in North American region.
In addition to the Philippines, we have received patronage from many customers.
We will continue to actively pursue technological development and research and make further effort to contribute to the Philippine economy and related companies.
Company Profile
Establishment
March 2003
Company Name
ITO-SEISAKUSHO PHILIPPINES CORPORATION
Representative
Chairman: Sumio Ito
President: Rosemarie Andrion
Capital stock
30 million pesos
Employees
120 employees
Location
Lot C2-1B Carmelray Industrial Park II,
Brgy. Punta, Calamba City,Laguna Philippines 4027
TEL : +63-49-545-5152
FAX : +63-49-545-4123
E-mail : sales@ispc.com.ph
Main Business
Design and manufacture of progressive dies, processing of pressed parts, and assembly of parts
Main production items
Progressive dies and tandem dies for Automotive-related parts (onboard electronic components, wire harness parts, airbags, oil filters, mufflers, etc.) Parts for office automation (OA) equipment
Major Customers
DENSO Philippine Corporation
DENSO TEN Philippines Corporation
Imasen Philippine Manufacturing Coporation
JAE Philippines, Inc.
JOYSON SAFETY SYSTEMS (Philippines)
Sumi North-Philippines Wiring Systems Corporation
Vacuumtech Phils. Inc.(THERMOS)
Yamashin Filter Manufacturing Corporation
YUTAKA Manufacturing Philippines Inc.
Bank for transactions
MUFG Bank, Ltd.、Metropolitan Bank and Trust Company
Technical information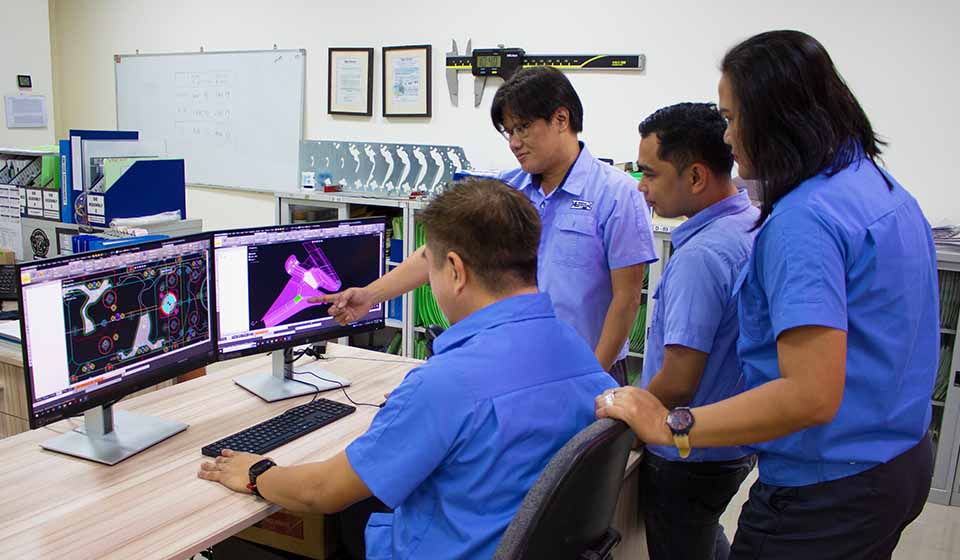 Design
We can exchange data with the head office and provide mutual support.
We use the same CAD/CAM system as our headquarters.
The level of local technicians who received training at the head office improves year by year, enabling local employees to design dies on their own.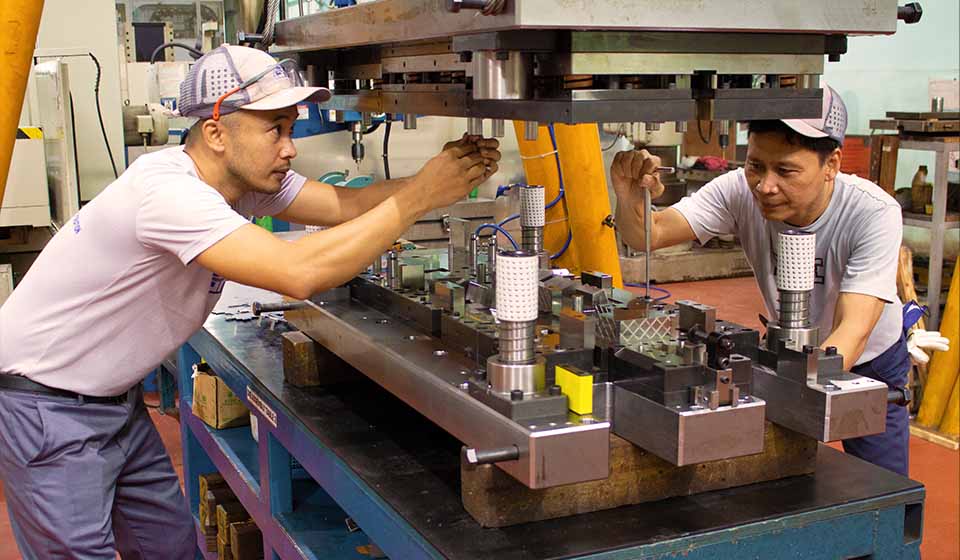 Die making
We have a well-equipped facility, including a machining center with a maximum work size of 2000×1000.
All processes such as high-precision wire cutting, surface grinding, forming grinding and assembly can be done locally.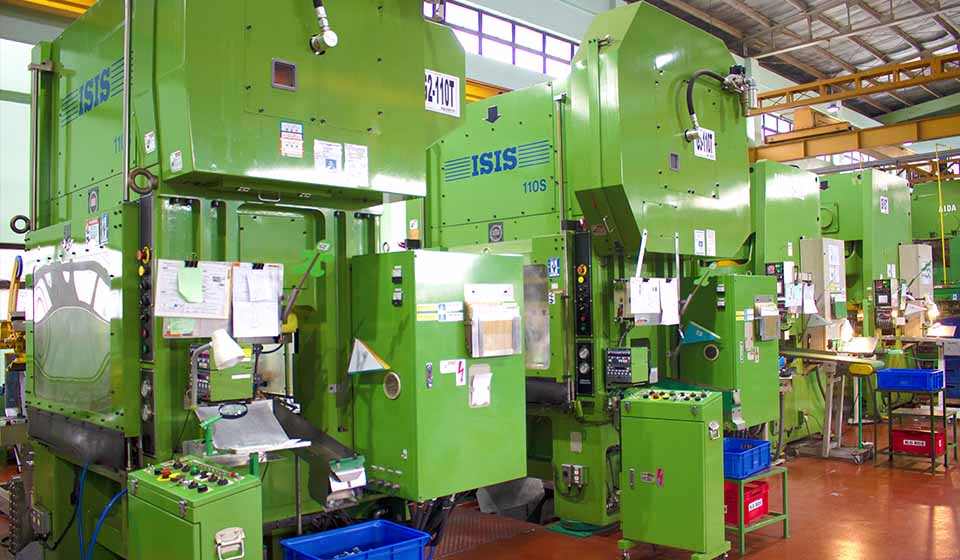 Stamping
Equipped with 25 progressive press machines including a 300-ton press machine, we have been educated on the "labor-saving" system of the head office, and pursue high quality, low cost, and high productivity.
We have 13 tandem press machines, 7 spot welding machines, and 5 tapping machines, allowing us to handle various processes.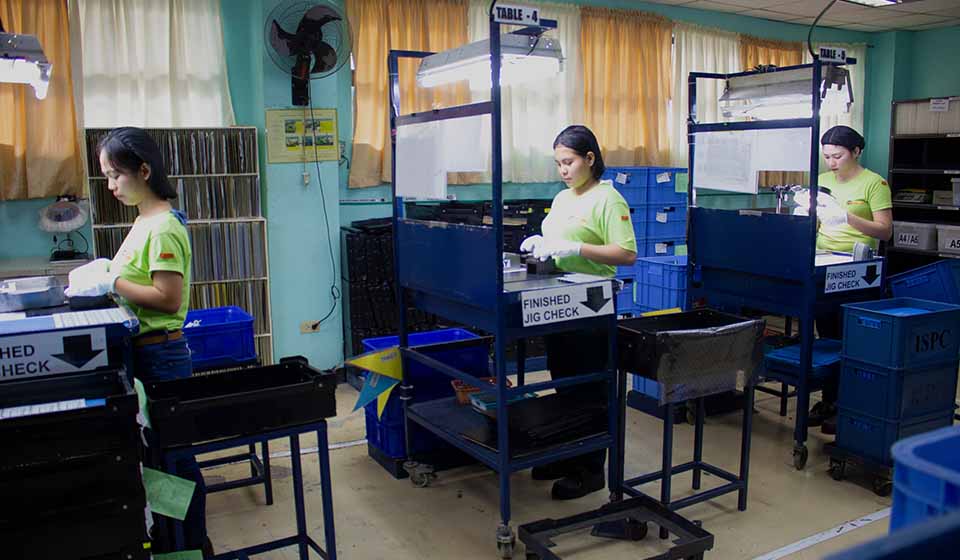 Quality control
Equipped with a CMM, our trained technicians from Japan use various measuring tools to check the product accuracy. We have a proven track record of meeting quality requirements even more stringent than those in Japan.
We deploy more personnel than in Japan for product appearance checks and conduct thorough quality control.
In 2015, we obtained ISO 9001 and ISO 14001 certifications.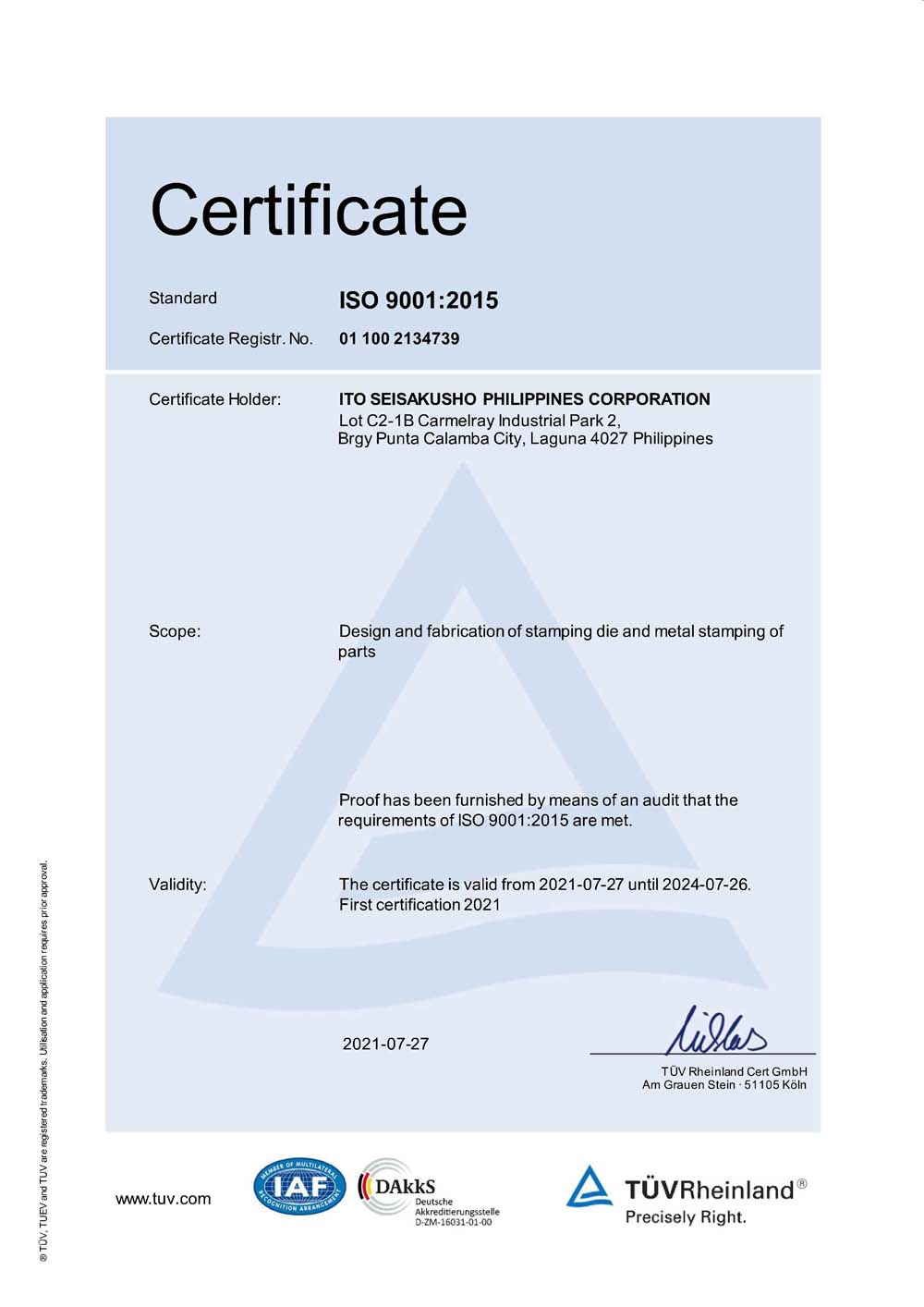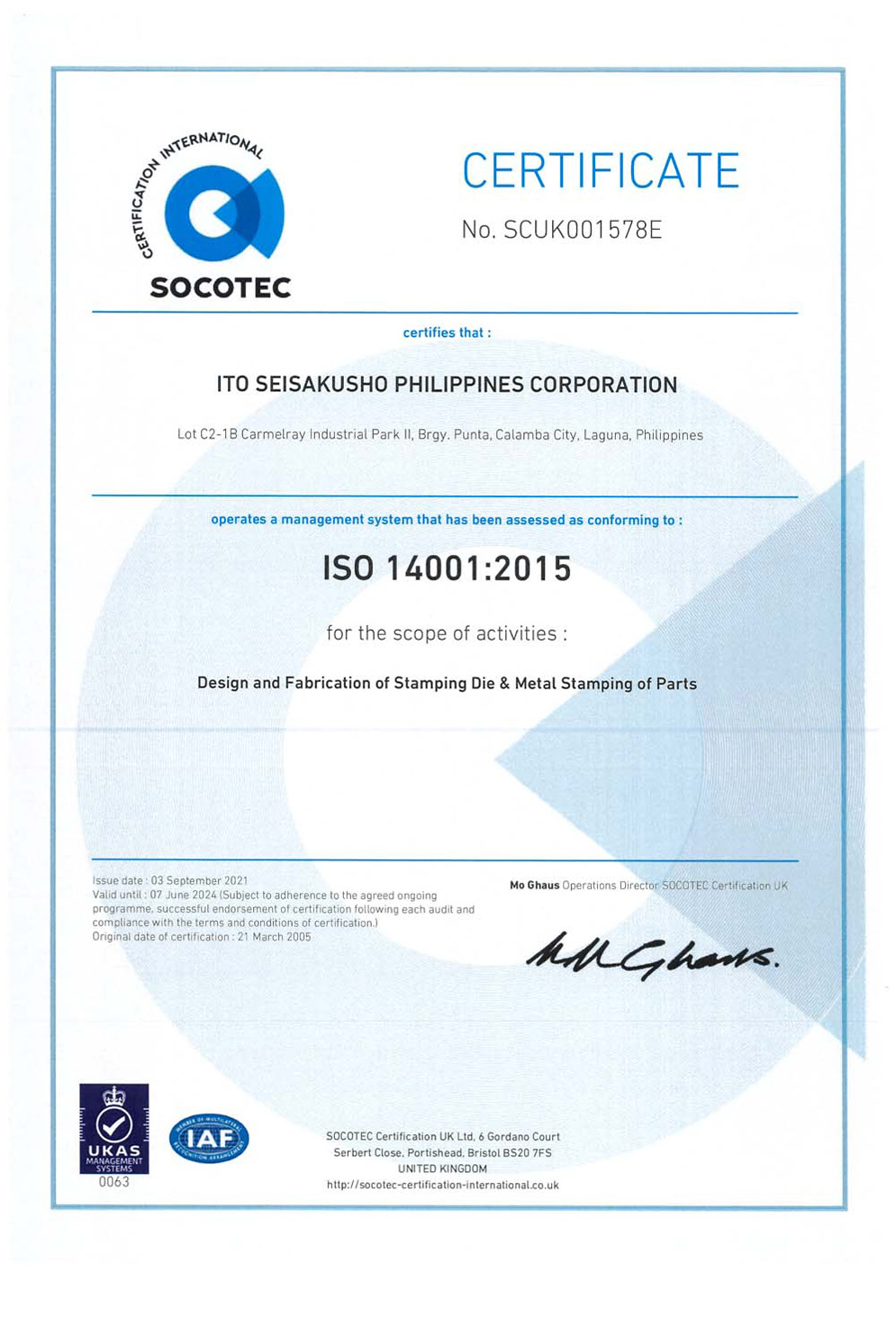 List of Main Products
Equipment information
List of tool & die Factory Equipment
Machining Center
EQUIPMENT
TYPE
BRAND
CAPACITY
SET
Machining Center
VS10000
Mori Seiki
X=2000 Y=1000 Z=600 ATC 90
1
VS8000
Mori Seiki
X=1600 Y=860 Z=600 ATC 60
1
VS50
Hitachi Seiki
X=1000 Y=510 Z=450 ATC 20
1
M-3XD
KITAMURA
X=760 Y=510 Z=510
1
N.C Milling Machine
VSZN-EG
Takeda
X=850 Y=420 Z=450
1
M-2V
Mazak
X=1300 Y=300
1
E.D.M.
EQUIPMENT
TYPE
BRAND
CAPACITY
SET
Wire Cut E.D.M.
AG400L
Sodick
X=400 Y=300 Z=250
1
VL400Q
Sodick
X=400 Y=300 Z=220
1
AQ537L
Sodick
X=570 Y=370 Z=350
1
AQ325L
Sodick
X=350 Y=250
1
SL600G
Sodick
X=600 Y=400 Z=350
1
AP450L
Sodick
X=450 Y=300 Z=150
1
MV1200S
Mitsubishi
X=400 Y=300 Z=220
1
E.D.M.
NE30
ARD
X=250 Y=200 Z=250
1
CAD/CAM
EQUIPMENT
TYPE
BRAND
CAPACITY
SET
CAD/CAM
–
Eaton
–
1
New Partner V
Sum System
–
4
CAD
Basic CAD
Excess Hybrid
–
1
Others
EQUIPMENT
TYPE
BRAND
CAPACITY
SET
Forming Grinder
LINEAR350B
Okamoto
X=400 Y=150
1
ACC-350Ⅱ
Okamoto
X=350 Y=150
1
PFG 350DX
Okamoto
X=350 Y=150
1
KGS-616S
Kent
X=410 Y=160
1
Surface Grinder
PSG-208DX
Okamoto
X=2000 Y=800
1
PSG-157DX
Okamoto
X=1500 Y=700
1
PSG-156DX
Okamoto
X=1500 Y=600
1
PSG-95DX
Okamoto
X=900 Y=500
1
PSG-63DX
Okamoto
X=600 Y=300
2
Radial Drill Press
YD3-94CTN
Yoshida
–
1
YR5-130
Yoshida
–
1
TF-1700H
TONE FAN
–
1
Lathe Machine
LE-19T
Wasino
–
1
Contour Machine
AMG-16
Amada
–
1
Mechanical Shear
M2560
Amada
t=5.5mm; max=6mmt
1
Blasting Machine
TSA-110
Rich Sou
–
1
Press Machine
NC2-160(2)A
Aida
TRY Machine
1
List of Equipment in Press Factory
Press Machine
EQUIPMENT
TYPE
BRAND
CAPACITY
SET
Press Machine: Progressive line
PMX-L2-3000
Aida
300tons w/N.C Feeder t=4.5 w=500
1
NCS-250
Aida
250tons w/N.C Feeder t=3.2 w=300
2
E2W-200
Komatsu
200tons w/N.C Feeder t=3.2 w=300
2
PXL-150
Washino
150tons w/N.C Feeder t=3.2 w=300
1
NS1-150
Aida
150tons w/N.C Feeder t=3.2 w=300
1
NC2-110(2)
Aida
110tons w/N.C Feeder t=3.2 w=300
1
NC2-1100(1)E
Aida
110tons w/N.C Feeder t=3.2 w=300
2
NC1-1100(1)E
Aida
110tons w/N.C Feeder t=3.2 w=300
1
NS1-1100(1NL)
Aida
110tons w/N.C Feeder t=3.2 w=300
1
NS1-1100 (1)
Aida
110tons w/N.C Feeder t=3.2 w=300
1
TP110EX-X
Amada
110tons w/N.C Feeder t=3.2 w=300
1
100SII-L
ISIS
110tons w/N.C Feeder t=3.2 w=300
1
100S
ISIS
110tons w/N.C Feeder t=3.2 w=300
1
80S
ISIS
80tons w/N.C Feeder t=3.2 w=300
1
TPL 80SI
Amada
80tons w/N.C Feeder
1
NC1-800 (1NL)E
Aida
80tons w/N.C Feeder
1
PXL 80AN
Washino
80tons w/N.C Feeder
1
TPL 60SI
Amada
60tons Air Feeder
1
NC1-600(1)
Aida
60tons Air Feeder
1
OBS 45-33B
Komatsu
45tons w/Air Feeder
1
PUX-35
Amada
35tons Air Feeder
1
Press Machine: Tandem line
NC1-80(1)
Aida
80tons
1
PUX 80AD-KRK
Washino
80tons
1
TP80EX-X
Amada
80tons
1
TP-60
Amada
60tons
2
OBS45-33B
Komatsu
45tons
1
PUX-35
Washino
35tons
1
TP-25C
Amada
25tons
1
PUX-15
Washino
15tons
3
OBS-15-B
Komatsu
15tons
1
Others
EQUIPMENT
TYPE
BRAND
CAPACITY
SET
Spot Welding
SLP-35B5
Nastoa
35KVA
7
Tig Welder
300P
Daiden
300A
1
Tapping Machine
BT1-215
Brother
M3,M4
1
BT1-216
Brother
M3,M4
1
BT2-225
Brother
M3,M4,M5,M6
1
01BB-TMS
Toyosk
M5
1
01CC-TMS
Toyosk
M3,M5
1
Compressor
ZV37AS3i-R
Mitsui Seiki
Max.Working Pressure-7.0bars/9.0
1
ZV22AX-R
Mitsui Seiki
Max.Working Pressure-7.0bars/9.0
1
ZV15AS5-R
Mitsui Seiki
Max.Working Pressure-7.0bars/9.0
1
Arc Welder
300
Yamato
300A
2
Degreasing Machine
UWPB-24164
Unicleaner
–
1
DIPPING TYPE
ISTECH
–
1
Measurement equipment
Measuring Machine
| EQUIPMENT | TYPE | BRAND | CAPACITY | SET |
| --- | --- | --- | --- | --- |
| 3D Coordinate Measuring Machine | CRYSTA APEX 544 | Mitutoyo | X=500 Y=400 Z=400 | 1 |
| Visual Measuring Machine | QS-L2010Z/AFB | Mitutoyo | X=200 Y=100 Z=150 | 1 |
| Profile Projector | PJ-H3000P | Mitutoyo | – | 1 |