Greetings
This year marks the 77th anniversary since our company was founded. The founder, Shoichi Ito, started operations in 1945 by manufacturing parts for fishing net machinery and later manufactured and exported fishing net machinery to countries around the world.
Chairman Sumio Ito began designing and manufacturing progressive dies and press work in 1964. In response to the overseas expansion of domestic companies including the automobile industry after the Plaza Accord, we expanded in the Philippines in 1996 and Indonesia in 2013, and have been making changes while responding to the historical background Currently, the automotive industry is undergoing a once-in-a-century transformation. In addition, as the term "VUCA era" symbolizes, it is very difficult to predict the future of society and business.
We will strive to meet the expectations of our customers and contribute to society by creating an organization that can quickly identify needs and responds to changes, and by utilizing digital technology.
December 2022, President Ryuhei Ito.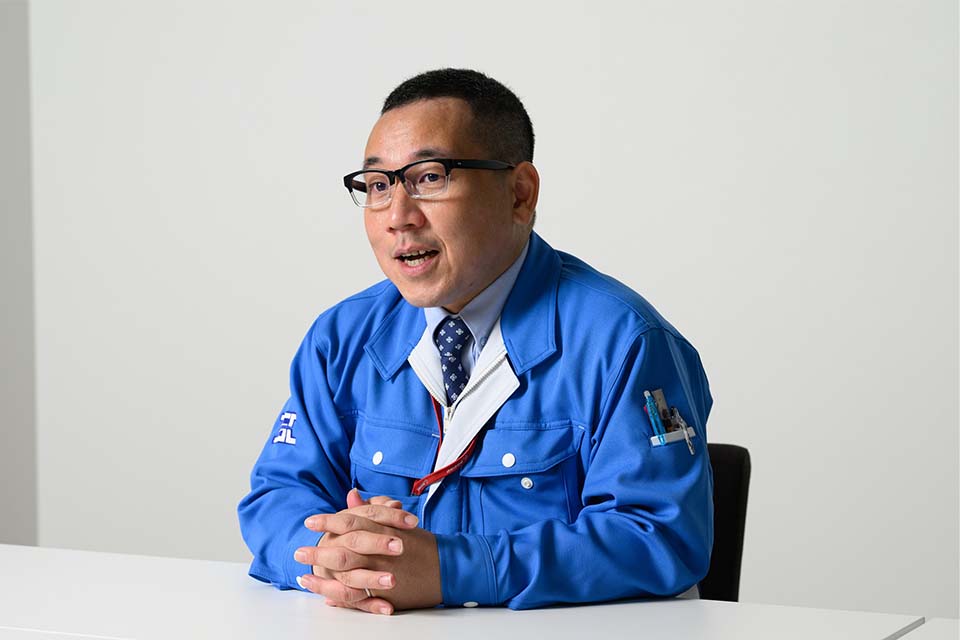 Ito Seisakusho Co., Ltd
Company Name
Ito Seisakusho Co., Ltd
Head Office Location
101 Hironaga-cho, Yokkaichi-shi, Mie 512-8061, Japan
Telephone
059-364-7111
Fax
059-364-6410
Director
Chairman: Sumio Ito
President: Ryuhei Ito
Managing Director: Tomohiko Inagaki
Executive Director: Tsuyoshi Kawasaki
Director QMR: Kenji Yamakawa
Establishment
December 1945
Capital stock
50 million yen
Employees
135 employees
Headquarters
Eaton Corporation
ITO-SEISAKUSHO PHILIPPINES CORPORATION
PT.ITO-SEISAKUSHO ARMADA
Bank for transactions
Hyakugo Certification・Permission・Registration・License, Mitsubishi UFJ Certification・Permission・Registration・License, Japan Finance Corporation
Business Description
Design and manufacture of progressive dies, processing of pressed parts, and assembly of parts
Certification・Permission・Registration・License
ISO 9001、 EcoStage 2、Regional Future Leading Company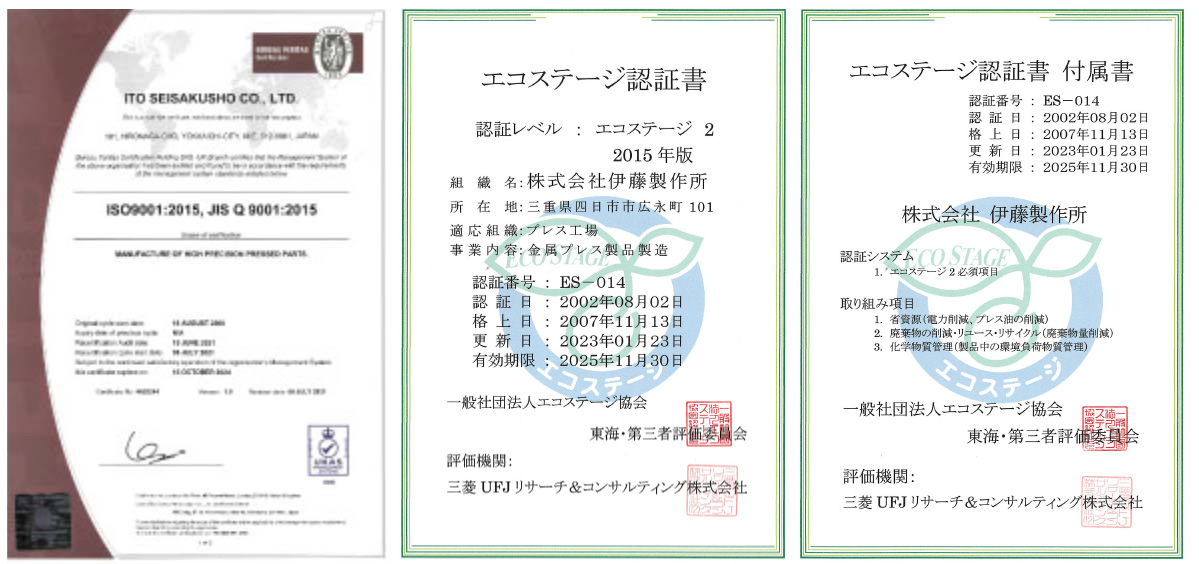 History
| | |
| --- | --- |
| December 1945 | Ito Seisakusho was founded in Hamamachi, Yokkaichi City, and started its business with the postwar reconstruction of fishing net and twisting machines damaged by the war. |
| July 1957 | "Ito Seisakusho Co., Ltd." was established with a capital of 1.5 million yen. |
| October 1963 | Ito Seisakusho began designing and producing progressive dies |
| August 1964 | The capital was increased to 5 million yen and a new factory was established in Kogane-cho to rationalize the production of press dies by installing additional machinery. |
| April 1970 | Ito Seisakusho increased its capital to 10 million yen. |
| April 1975 | Start of QC circle activities with full participation. |
| April 1979 | Expansion of facilities with the addition of large automatic presses, 2 NC milling machines, and 4 wire cutters. |
| December 1982 | We introduced CAM and MC for rationalization of the tool & die department. |
| August 1983 | We introduced CAD/CAM to meet the needs of our customers. |
| October 1983 | Increased installation of related equipment including 100-tools MC for rationalization of the tool & die department. |
| March 1985 | Introduction of 5 high-speed automatic presses and multipacers. |
| April 1986 | Construction of the head office and employee dormitory (9 households). |
| February 1987 | Expansion of 32-bit CAD/CAM with 2 sets. |
| December 1987 | Established a new press-dedicated factory in Kamitakada Hironaga-cho (2,100 square meters). |
| November 1990 | Introduction of 4 NC machines for automatic design systems. |
| November 1991 | Construction of the Head Office tool & die Factory (960 square meters) and the Constant Temperature Room (336 square meters). |
| March 1992 | Increased capital to 30 million yen. |
| December 1995 | Establishment of joint venture company "ITO FOCUS" in the Philippines. Paid-in capital of 8 million pesos. |
| January 1997 | Transfer of equipment to a joint venture company, with the introduction of 9 presses, 4 CAD/CAM machines, 2 MC machines, 2 wire cutters, NC milling machines, and 3D measuring machines. |
| January 2000 | The capital was increased by 20 million yen through investment and development, bringing the total capital to 50 million yen. |
| February 2000 | Improvement of precision measuring machines, including image measuring machines. |
| July 2000 | Expansion of the press factory product warehouse (420 square meters). |
| August 2000 | ISO9002 certification obtained. |
| January 2001 | Construction of an internal LAN. |
| April 2001 | Installed 14 automatic presses (including 300-ton press). |
| August 2002 | Obtained Eco-Stage I certification for Environmental Management System. |
| March 2003 | "Ito Seisakusho Philippines (ISPC)" is established by acquiring 100% ownership of the joint venture company in the Philippines. |
| March 2005 | Established Press factory No.2 (936 square meters). |
| March 2005 | ISO14000 certification obtained (ISPC). |
| March 2007 | ISO9001 certification obtained (ISPC). |
| June 2007 | Established Press factory No.3 (612 square meters). |
| December 2010 | Established Press factory No.4 (1,367㎡). |
| March 2013 | Established Press factory No.5 (741 square meters). |
| March 2013 | Establishment of Ito Seisakusho Armada (ISA), a joint venture company in Indonesia. |
| November 2013 | Received the 31st Excellent Management Award. |
| November 2013 | Received "Excellent Company Award" at the 47th Good Company Award. |
| December 2016 | ISO/TS16949 certification acquired (ISA) |
| January 2017 | Our company's president (currently chairman) accompanied Prime Minister Abe on his visit to Southeast Asia (the Philippines and Indonesia). |
| April 2017 | Ito Seisakusho Philippines (ISPC) establishes a new tool & die -dedicated factory. |
| December 2017 | Selected as a "Regional Future Leading Company" by the Ministry of Economy, Trade and Industry. |
| June 2022 | Ito Seisakusho established a new Technical Center. |
Access Map
Eaton Corporation
| | |
| --- | --- |
| Company Name | Eaton Corporation, Ltd. |
| Head Office Location | 101 Hironaga-cho, Yokkaichi-shi, Mie 512-8061, Japan |
| Telephone | 059-325-6791 |
| President | Sumio Ito |
| Establishment | November 1991 |
| Capital stock | 10 million yen |
| Employees | 5 employees |
| Bank for transactions | Hyakugo Certification・Permission・Registration・License, Mitsubishi UFJ Certification・Permission・Registration・License |
| Business Description | Design of progressive dies, Dedicated machine design, die set production |
Access Map
ITO-SEISAKUSHO PHILIPPINES CORPORATION
Company Name
ITO-SEISAKUSHO PHILIPPINES CORPORATION
Head Office Location
Lot C2-1B, Carmelray Industrial ParkⅡ
Calamba,Laguna,Philippines
Telephone
+63 49 545 4123
President
Chairman: Sumio Ito
President: Rosemarie Andrion
Establishment
March 2003
Capital stock
30 million PHP
Employees
120 employees
Bank for transactions
Mitsubishi UFJ Certification・Permission・Registration・License, Metro Certification・Permission・Registration・License
Business Description
Design and manufacture of progressive dies, processing of pressed parts, and assembly of parts
Access Map
PT. ITO SEISAKUSHO ARMADA
Company Name
PT. ITO SEISAKUSHO ARMADA
Head Office Location
Jl. Diponegoro km.38 No 107 Tambun, Bekasi
West Java, Indonesia
Telephone
+62 21 882 3252
President
Chairman: Sumio Ito
President: J.Budiyono
Establishment
October 2013
Capital stock
30 billion IDR
Ito Seisakusho Co., Ltd 51%
PT.MEKAR ARMADA JAYA 49%
Employees
70 employees
Bank for transactions
Mitsubishi UFJ Certification・Permission・Registration・License, Mandiri Certification・Permission・Registration・License
Business Description
Design and manufacture of progressive dies, processing of pressed parts, and assembly of parts
Access Map