Indonesia boasts the largest population in Southeast Asia and continues to grow economically. It is a pro-Japanese country, with annual automobile production and sales exceeding 1 million units and approximately 96% of vehicles sold are Japanese, making it an attractive market.
PT. Ito Seisakusho ARMADA (based in Indonesia) is the 47th company of the New Armada Group, an Indonesian conglomerate, and was started as a joint venture with PT.
The plant is conveniently located in Bekasi, approximately 20 km east of Jakarta.
Engineers from the Philippine base were also stationed at the start-up, and within just two months of the establishment of the plant, advanced progressive dies were manufactured.
As a new base of the Ito-Armada Group, we will redouble our effort to contribute to the Indonesian economy.
Company Profile
Establishment
October 2013
Company Name
PT. ITO SEISAKUSHO ARMADA
Telephone
+62 21 882 3252
Representative
Chairman: Sumio Ito
President: J.Budiyono
Capital stock
300 billion rupiah
Ito Seisakusho Co., Ltd 51%
PT.MEKAR ARMADA JAYA 49%
Employees
70 employees
Head Office Location
Jl. Diponegoro km.38 No 107 Tambun, Bekasi
West Java, Indonesia
TEL +62-21-8835-5581 Person in charge Kotake
Main production items
Design and manufacture of progressive dies, processing of pressed parts, and assembly of parts
Bank for transactions
Mitsubishi UFJ Bank, Mandiri Bank
Major Customers
PT.AUTOCOMP SYSTEMS INDONESIA
PT.FUJI SEAT INDONESIA
PT.FUTABA INDUSTRIAL INDONESIA
PT.SHIROKI INDONESIA
PT.TD AUTOMOTIVE COMPRESSOR INDONESIA
PT.TOYOTA BOSHOKU INDONEISA
PT.T.RAD INDONESIA
PT.MEKAR ARMADA JAYA
Technical information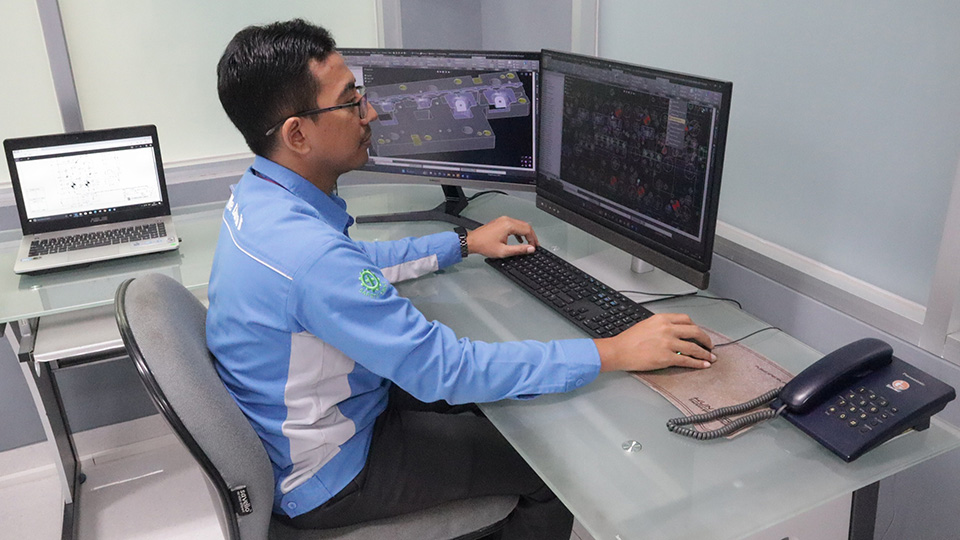 Design
We use the same CAD/CAM system as our headquarters.
It is possible to exchange data and provide mutual support among each location.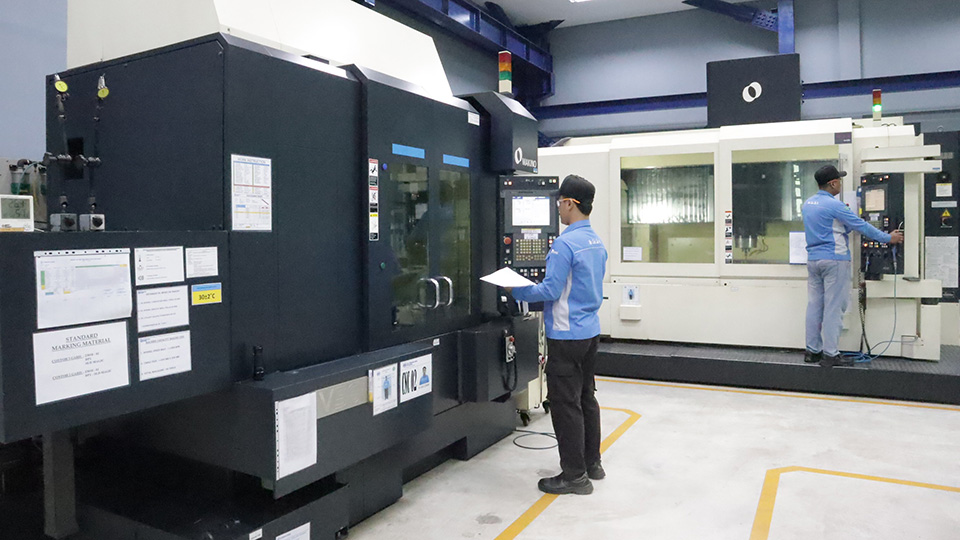 Die making
We have a well-equipped facility, including a machining center with a maximum work size of 2000×1000.
All processes such as high-precision wire cutting, surface grinding, forming grinding, and assembly can be done locally.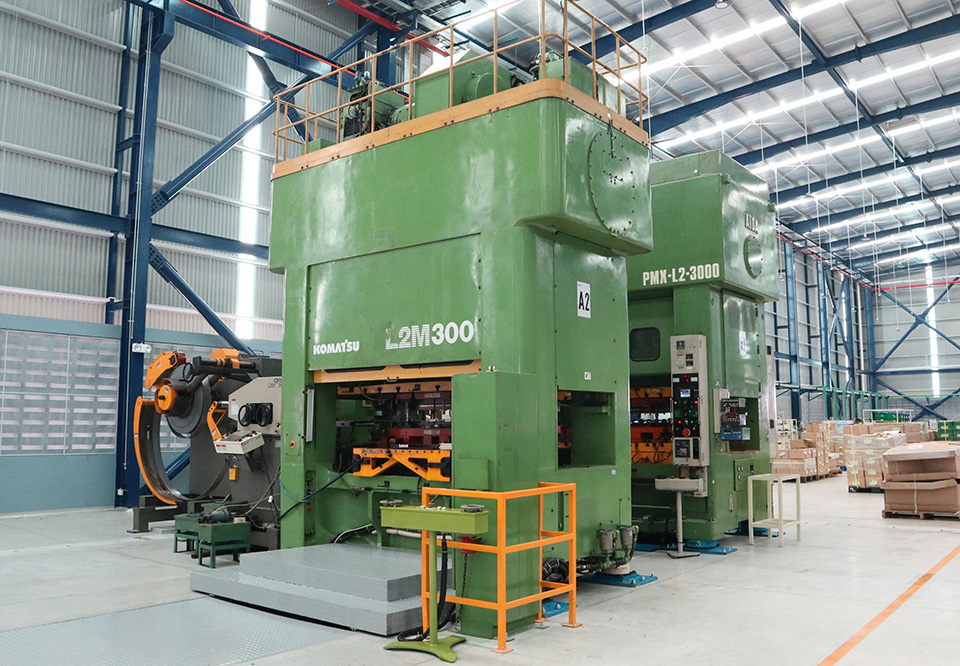 Stamping
Equipped with 15 progressive press machines including a 300-ton press machine, we have been educated on the "labor-saving" system of the head office, and pursue high quality, low cost, and high productivity.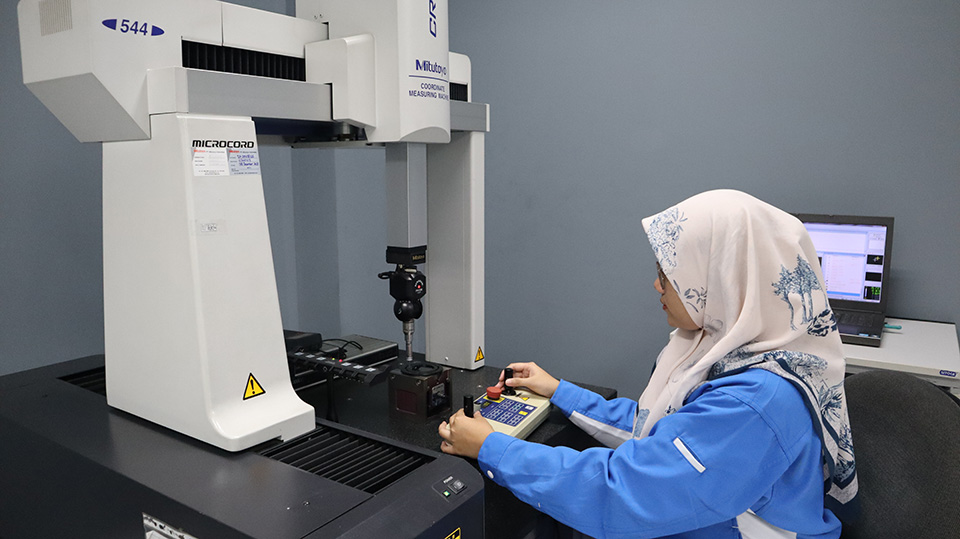 Quality control
Equipped with a CMM, our trained technicians from Japan use various measuring tools to check the product accuracy. We have a proven track record of meeting quality requirements even more stringent than those in Japan.
"IATF16949" certification was obtained in 2016.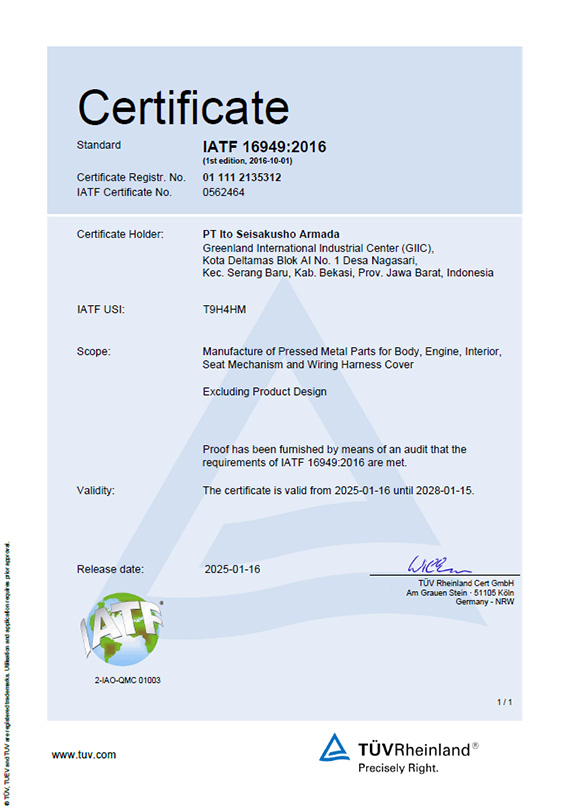 List of Main Products
Equipment information
List of tool & die Factory Equipment
Machining Center
EQUIPMENT
TYPE
BRAND
CAPACITY
SET
Machining Center
V99L
Makino
X=2000 Y=1000 Z=600 ATC 60
1
V56I
Makino
X=900 Y=550 Z=450 ATC 60
1
E.D.M.
EQUIPMENT
TYPE
BRAND
CAPACITY
SET
Wire Cut E.D.M.
SL600G
Sodick
X=600 Y=400 Z=350
1
SL400G
Sodick
X=400 Y=300 Z=250
1
MV 2400S
Mitsubishi
X=600 Y=400 Z=300
1
MV 1200S
Mitsubishi
X=400 Y=300 Z=250
1
E.D.M.
T50 ZNC
SANE KUEI Machinery
X=300 Y=200 Z=200
1
CAD/CAM
EQUIPMENT
TYPE
BRAND
CAPACITY
SET
CAD/CAM
–
Eaton
–
1
Basic 3D
Excess Hybrid
–
1
CAD
New Partner V
Sum System
–
1
Professional
Solidwork
–
1
CAM
New Partner V
Sum System
–
1
MC 2.5D
Excess Hybrid
–
1
WEDM 2D
CAM MAGIC
–
1
Auto Programming
–
Eaton
–
1
Others
EQUIPMENT
TYPE
BRAND
CAPACITY
SET
Forming Grinder
Linear 350Ⅱ
Okamoto
X=350 Y=150
2
Surface Grinder
ACC-208DX
Okamoto
X=2000 Y=800
1
ACC-105D
Okamoto
X=1000 Y=500
1
Proth
Proth
X=800 Y=500
1
Milling Machine
SM4
Standard
X=780 Y=406 Z=406
1
Radial Drill Press
TPR 1600 H
Tailift
–
1
Lathe Machine
LA -530 x 1100
LEI SHIN
–
1
Sandmaster
–
Sandmaster
–
1
Tig Welding
ACCUTIG 300P
OTC
–
1
List of Equipment in Press Factory
Press Machine
EQUIPMENT
TYPE
BRAND
CAPACITY
SET
Press Machine: Progressive line
PMX-3000
Aida
300tons w/N.C Feeder t=6.0 w=600
1
L2M-300
Komatsu
300tons w/N.C Feeder t=4.5 w=400
1
NS2-2000
Aida
200tons w/N.C Feeder t=3.2 w=300
1
NS1-2000
Aida
200tons w/N.C Feeder t=4.5 w=500
1
SDEW-2025
Amada
200tons w/N.C Feeder t=3.2 w=300
1
NC2-1600
Aida
160tons w/N.C Feeder t=3.2 w=300
1
NS2-1100
Aida
110tons w/N.C Feeder t=3.2 w=300
1
NC2-1100
Aida
110tons w/N.C Feeder t=3.2 w=300
1
TP-110EX
Amada
110tons w/N.C Feeder t=2.3 w=200
1
TPL-110
Amada
110tons w/N.C Feeder t=3.2 w=300
1
NS1-800
Aida
80tons w/N.C Feeder t=3.2 w=300
1
NC1-800
Aida
80tons w/N.C Feeder t=3.2 w=300
3
OBS-45
Komatsu
45tons w/Air Feeder
1
Others
EQUIPMENT
TYPE
BRAND
CAPACITY
SET
Spot Welding
SLP 35A5
Nastoa
35KVA
6
SLP 50A5
Nastoa
50KVA
2
Compressor 22KW
OSP-22S5ANA
Hitachi
Max.Working Pressure-7.0bars/9.0
2
Compressor 15KW
OSP-15S5ANA
Hitachi
Max.Working Pressure-7.0bars/9.0
1
Measurement equipment
Measuring Machine
| EQUIPMENT | TYPE | BRAND | CAPACITY | SET |
| --- | --- | --- | --- | --- |
| 3D Coordinate Measuring Machine | Crysta-Apex S544 | Mitutoyo | X=500 Y=400 Z=400 | 1 |
| Profile Projector | PJ-A3010F-200 | Mitutoyo | – | 1 |
| Countracer | CV-3200S4 | Mitutoyo | – | 1 |
| Welding Checker | SP-3288 | Spotron | – | 1 |